After you have imported your members you'll need to send out ID cards to all of your families. PoolMMS makes this easy, you can send initial welcome emails to all of your families at once, and send more as new families are added without worrying about sending it again to families who have already received it.
Initial Send
Step 1: In your Admin panel, click "Families" on the main sidebar.
Step 2: Click "Send Initial Welcome Email" in the top right.
This will send the welcome email to anyone who has not yet received it. You can safely re-run this action as much as you need throughout a season and members will not be spammed.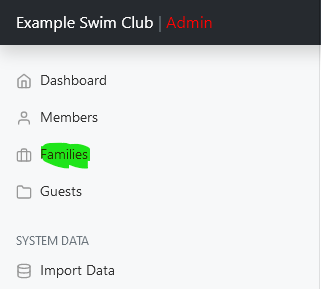 Re-sending Emails
If you need to resend an email to an individual family, click the "(Re)send" button on their family in the list provided on that page.

If you need to resend welcome emails to your entire membership, complete only Steps 1, 2, and 3a of the Seasonal Getting Started instructions. WARNING: Please be sure to only complete these steps. Any step beyond 3a WILL reset PoolMMS as if it were a new season.
Manually Sending Emails/Blocked in Spam Filters
Sometimes emails from PoolMMS get blocked in your member's spam filters. Yahoo/Verizon/AOL (all the same company) are notorious for doing this. If this happens, you may have to manually provide members with access to their family portal.
If this happens, click the "Login as Family" button for each family that you need to send this information to. Copy the the address to the page that is opened, and email/text/give that to them. They will then be able to access the system as needed.
If you have a large volume of members not receiving their emails, please contact [email protected]. We will be able to provide a workaround.
Welcome emails may take up to 24 hours to be delivered.